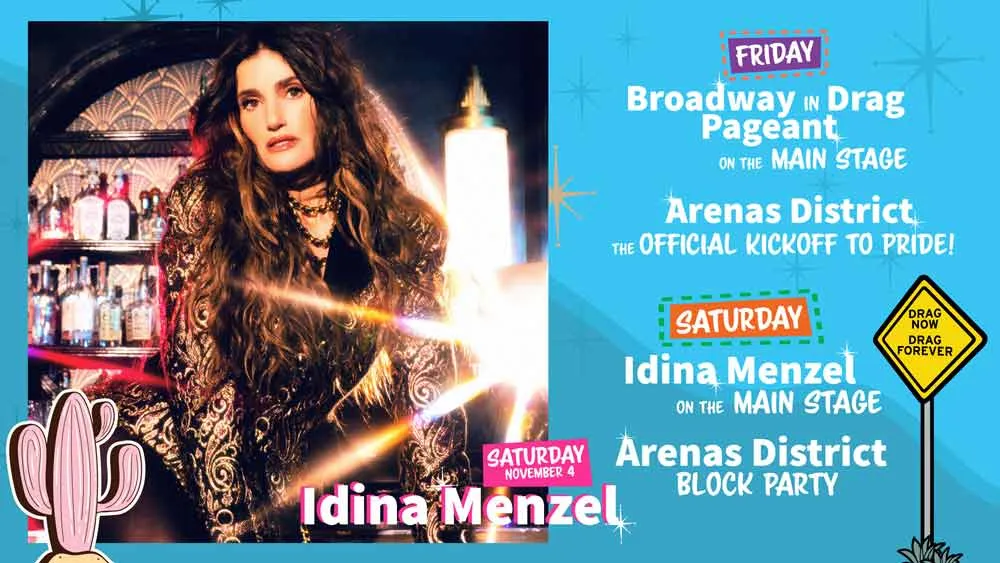 Idina Menzel Headlines Palm Springs Pride Festival
The following is a press release from Palm Springs Pride Festival:
Multi-platinum-selling singer/songwriter and Tony Award-winning performer, Idina Menzel, will headline the 37th annual Palm Springs Pride Festival on Saturday, November 4. The headliner announcement, from the Palm Springs Pride organizers, was made days after Menzel released her highly anticipated dance project "Drama Queen," which showcases her powerhouse vocals through soaring anthems and disco-infused beats.
A skillful songwriter, Menzel's prolific recording career includes multiple cast albums and solo albums: "Still, I Can't Be Still," "Here, I Stand," and "Idina," which landed in the Top 30 on Billboard's Top 200 charts upon its release in 2016.
Menzel said about the the "Drama Queen" project: "I am a Drama Queen...I'm dramatic and emotional and passionate. I love the stage and the spotlight. I love the attention and the roar of an audience. I have big feelings. I sing my ass off through tears of joy, heartbreak, anger, and sadness. This project is the most fun I've ever had writing and recording an album. I want everyone to move and sing with me and embrace their inner Drama Queen."
The annual Palm Spring Pride Festival and Parade has been made possible by the support from the City of Palm Springs, PS Resorts,La Crema, Hornitos, Nutrl, Nissan, Eisenhower Health and many other sponsors.
Additional headliners and performers will be announced.The festival features four venues, including the Hornitos Main Stage on Palm Canyon Dr at Amado, the Community Stage on Palm Canyon Dr and Tahquitz Canyon Way, the Oscar's Pride Stage on Tahquitz Canyon Way and Indian Canyon Dr, and the KGAY / White Party Global Stage in the Arenas District at Calle Encilia.
The three-day Festival will be free to attend and supported by Gateless Tickets. Gateless Tickets are a great way to give back by donating to the local nonprofit Pride organization. Donations help keep Pride free and accessible to everyone.
About Greater Palm Springs Pride
Greater Palm Springs Pride is a 501(c)(3) nonprofit community enhancement organization founded to promote public education and awareness of individual rights and civil liberties of the LGBTQ+ community and to promote its history, diversity, and future prosperity. Palm Springs Pride has been a tireless advocate for equality and diversity since the first Coachella Valley Pride event in 1986.
Palm Springs Pride Week is scheduled for November 1-5, 2023. For more information about Greater Palm Springs Pride, visit www.pspride.org. Follow us on Facebook at www.facebook.com/palmsprings.pride.
#PALMSPRINGSPRIDE
#IDINAMENZEL
#VISITPALMSPRINGS
#PSPRIDE
---