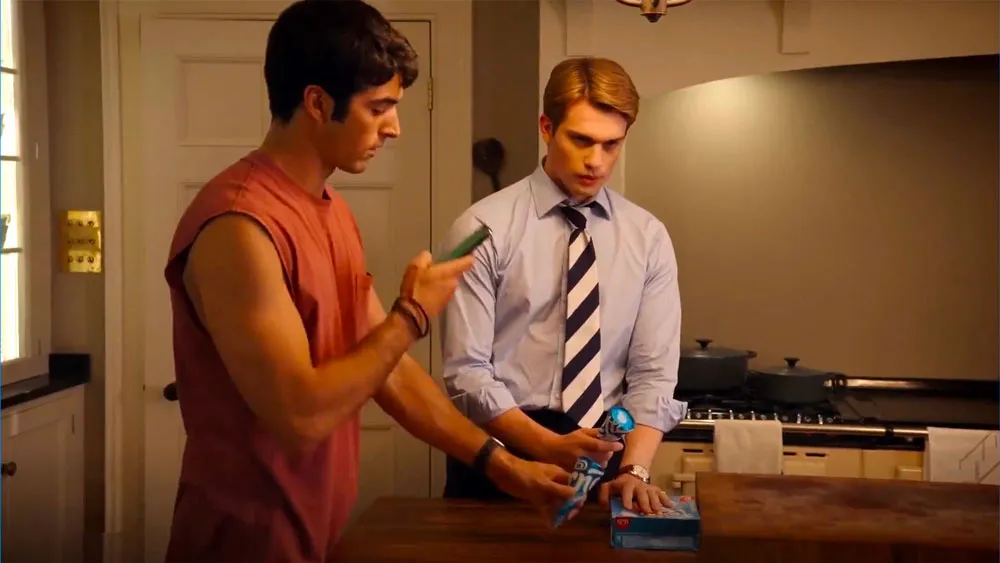 Watch: 'Red, White & Royal Blue' Scene Fans Have Been Waiting For
After many questions, concerns and confusion from fans of the "Red, White & Royal Blue" novel, the social media accounts for the film adaptation by Amazon Prime Video have finally released what has come to be known as the "Cornetto scene."
As reported by Entertainment Weekly, the social media accounts for the film announced: "We present to you: The Cornetto Scene. Happy one week since #RWRBMovie came home."
Happy, indeed!
The scene happens during the first night that Alex Claremont Diaz (Taylor Zakhar Perez) sleeps over at Kensington Palace so he and Prince Henry (Nicholas Galitzine) can pretend to be best of friends. Alex is talking to BFF Nora (Rachel Hilson) about how "insufferable" Henry is when the prince himself makes an appearance in the kitchen.
He has come to steal Cornetto ice cream cones out of Alex's fridge. And when Henry tells Alex that they need to try harder to make their friendship work, Alex takes a photo of their hands with the Cornetto box and posts it to Instagram and it goes viral.
In the novel, the moment is the first time that Alex and Henry experience each other in a more down-to-earth scenario. Henry is in his, and Alex has on his glasses.
As for why the scene was ultimately cut, director Matthew Lopez explained that it did not test well.
"The Cornetto scene was in the movie for a while, but in the test screenings, the interview scene was playing so well," he told The Messenger. "The energy of the scene where Henry pulls up in the car, and they tussle over who's going to shake whose hand in the picture – the Cornetto scene actually slowed down the rhythm and the trajectory, so I took it out. I love the scene, but without it, that section worked so much in the energy, and the rhythm worked better. So, the Cornetto scene exists, but not in the finished film."
Fans seemed to disagree, but now they can watch the scene as many times as they want online.
See the scene below. "Red, White & Royal Blue" is streaming now on Prime Video.

---