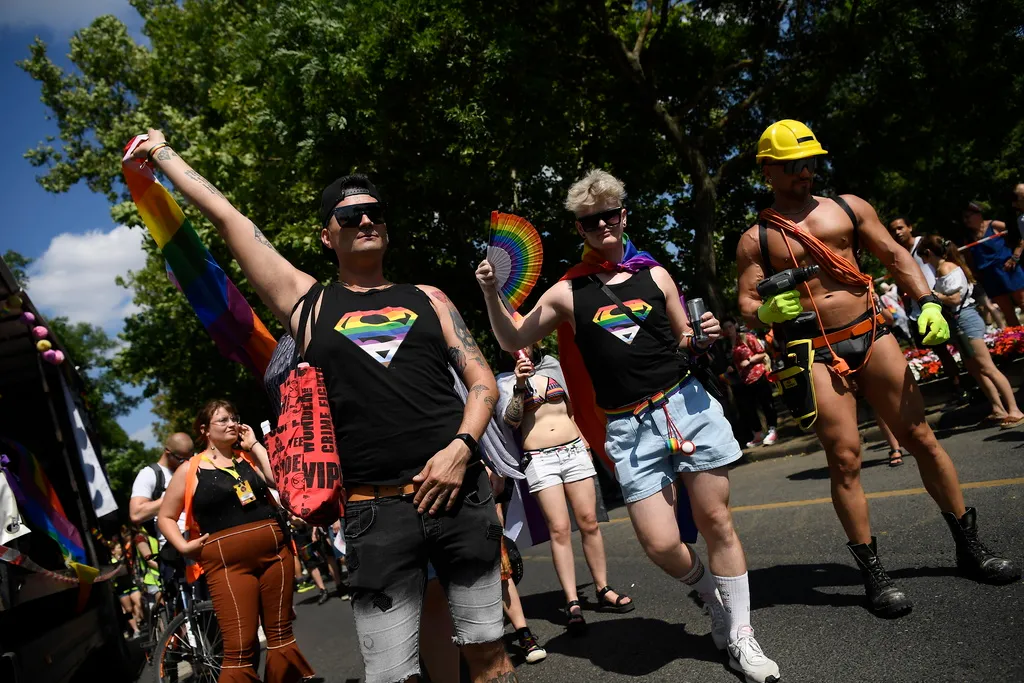 Thousands March at Budapest Pride as LGBTQ+ Community Voices Anxiety over Hungary's Restrictive Laws
Justin Spike
READ TIME: 3 MIN.
Thousands of participants of the Budapest Pride march wound through the streets of the Hungarian capital on Saturday with marchers voicing their anxiety over the increasing pressure on the LGBTQ+ community from the country's right-wing government.
The 28th annual event comes as the country's laws, which ban the depiction of homosexuality or gender transition, to minors under 18 have begun to be applied with increasing regularity, resulting in fines and other penalties for those who disseminate LGBTQ+ content.
Before the march, which began in Budapest's city park, Pride organizer Jojo Majercsik said that while the laws, passed in 2021, didn't have immediate practical effects, they are now increasingly being used to crack down on LGBTQ+ visibility.
"You can now see how the propaganda law passed two years ago is being applied in practice and how the public discourse has become more angry," Majercsik said, referring to the 2021 law. "It is now apparent how they are trying to limit the rights of LGBTQ people in the media world, in the world of movies, films and books."
Majercsik pointed to a number of recent instances of media content that depicted LGBTQ+ people being restricted. This week, a national bookseller was fined around $36,000 for placing a popular LGBTQ+ graphic novel in its youth literature section, and for failing to place it in closed packaging as required by law.
Additionally, a 30-second animated campaign video produced by Budapest Pride – in which two female characters meet and touch foreheads – was ruled unsuitable for audiences under 18 by Hungary's media authority, and may therefore only be broadcast between 10 p.m. and 5 a.m.
Such policies, enacted by the governing party of Prime Minister Viktor Orbán, have led rights groups to warn that the rights of sexual minorities are being rapidly drawn back in the Central European country.
Orban's government portrays itself as a champion of traditional family values, and a defender of Christian civilization from what it calls "gender madness." It has repeatedly said its laws were designed to protect children from "sexual propaganda."
But some Hungarians see the policies as deliberate attempts to stigmatize the LGBTQ+ community for political gain.
David Vig, director at Amnesty International Hungary, said that in contrast to some countries in Western Europe and North America where Pride events are celebrations of LGBTQ+ history and culture, Budapest Pride is a way of protesting increasing crackdowns on the rights of lesbian, gay, bisexual and transgender people.
"Unlike Pride marches in more happy countries of the world, this is really a human rights demonstration," Vig told The Associated Press. "This is for social acceptance and this is for equal rights, because in Hungary, these are not secured. We are second-class citizens in many spheres of public life."
Vig recounted a conflict that ensued this week after Amnesty International Hungary painted a city bench in rainbow colors to celebrate Pride month. The bench was defaced several times throughout the week by a white supremacist group of soccer fans, and anti-LGBTQ+ slogans were spraypainted in the vicinity.
"It is really a clear political message of stopping the LGBTQI community of the country from coming into public spaces, to showing who we are," Vig said.
On Saturday, a distributed denial-of-service, or DDoS, attack struck Budapest Pride's official webpage shortly before noon. It was unavailable throughout the day. Several small groups of counterprotesters lined the streets on the Pride march route, waving banners with anti-LGBTQ+ slogans.
But despite such opposition, Kristof Steiner, an emcee at Budapest Pride, said there were signs that younger generations of Hungarians are increasingly tolerant of the LGBTQ+ community.
"There are new laws that are making it nearly impossible for an LGBTQ person to live normally. We are being very much marginalized," he said. "But at the same time, there is a very positive change. I see that the new generation is completely different."
Nimrod Dagan, a Pride march participant, said he thinks LGBTQ+ rights in Hungary and in his home country of Israel are being "taken away," and that he feels a responsibility to stand up for his community by taking part in the march.
"I don't think it's a celebration. It's clear for everybody here that, unlike in other countries ... of the world, there is a bigger meaning to this," Dagan said. "I would say that it's a happy protest."
---