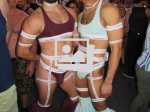 Market Days, The Boystown street festival, had many highlights with Mayor Lori Lightfoot joining Deborah Cox and Sheila E on the Bud Light Stage to dance, and Jake Shears from the Scissor Sisters shutting the night down.
EDGE was on hand for the Gay Days 2019 Kick-off Party at the Wyndham Orlando Resort.
It was everyone in the water at the Wyndham Orlando Resort on Friday, August 16 for the Gay Days 2019 Evening Pool Party. See who was there.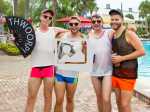 The Gay Days daytime pool party and Expo took place at Wyndham Orlando. Check out these great photos.
DJ's Brent Covington and Taffy hosted a midsummer FUZZ this past Friday night at Boston's Alley Bar. Check out who came out.
Market Days Street Festival in Chicago's Boystown, had singer Daya waving a rainbow flag while talking about coming out. Brian Justin Crum from America's Got Talent brought the fashion, and Macy Gray ended her set by singing The Golden Girls theme song.
The 21st annual Pines Party was held on the beach in the beautiful Fire Island Pines. DJ's for the party were Roger Sanchez & Peter Napoli. A special Broadway worthy show was performed by Pixie Aventura, Iman Le Caire & a gang of lost boy backup dancers
Pines Party held its annual pool party, The Lost Boys Lagoon, at the Pines Club with lost boys, mermaids, pirates and DJ's Scott Martin and Raf.
Oasis is the largest LGBT summer cocktail party in NYC. It drew 1,200 LGBT supporters to the Lighthouse at Pier Sixty for a night of cocktails, auction, and live entertainment, all to benefit AFC's homeless LGBT young people.
The world famous Up Your Alley Street Fair in San Francisco, brought pups, leather men, kinksters and leather people out for a street fair that was right up everyone's alley.