1 thru 10 of 6821 Stories
At least three Democratic presidential candidates are calling for the impeachment of Supreme Court Justice Brett Kavanaugh in the face of a new, uninvestigated, allegation of sexual impropriety when he was in college.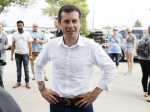 Pete Buttigieg would like to turn the fight for the 2020 Democratic presidential nomination into a contest about generational change. But there's one looming problem: He has yet to win over his own.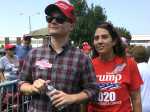 Less than 14 months before Election Day, the president's team is banking his reelection hopes on identifying and bringing to the polls hundreds of thousands of Trump supporters and people in closely contested states who didn't vote in 2016.
In the wake of the latest mass shooting in Texas, news agencies, politicians and pundits searched for explanations and solutions.
Elizabeth Warren has a plan for that. But on health care, she's with Bernie.
Marianne Williamson's voice dropped to a near whisper, then soared preacher-style to the rafters.
Senator Elizabeth Warren made waves by being the only 2020 candidate to have a virtual presence at RuPaul's Drag Con in New York City. Her campaign hosted a booth and played a tailored video she had recorded for the convention.
Joe Biden is the Democratic front-runner. And there were moments in Thursday night's debate when he looked the part.
Democratic debate night No. 3: Attacks and counter-attacks. Love for one former president, loathing for the current one. A 76-year-old front-runner essentially got called old, and he turned around and called another rival a "socialist."
The Democratic Party's strongest presidential contenders — according to polls and fundraising, at least — meet on the same debate stage for the first time Thursday night.
1 thru 10 of 6821 Stories