Linda Tripp, whose secretly taped conversations with former White House intern Monica Lewinsky provided evidence of an affair with President Bill Clinton that led to his impeachment, died Wednesday. She was 70.
John Prine, the ingenious singer-songwriter who explored the heartbreaks, indignities and absurdities of everyday life in "Angel from Montgomery," "Sam Stone," "Hello in There" and scores of other indelible tunes, died Tuesday at the age of 73.
Honor Blackman, the British actress who played the Bond girl Pussy Galore in "Goldfinger," has died. She was 94.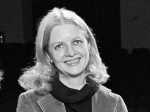 Patricia Bosworth, an actress who once starred alongside Audrey Hepburn and later wrote biographies on several stars including Marlon Brando and Montgomery Clift, has died due to the coronavirus. She was 86.
Bill Withers, who wrote and sang a string of soulful songs in the 1970s that have stood the test of time, including " Lean On Me, " "Lovely Day" and "Ain't No Sunshine," has died from heart complications, his family said. He was 81.
Emmy and Grammy-winning musician and songwriter Adam Schlesinger, known for his work with his band Fountains of Wayne and on the TV show "Crazy Ex-Girlfriend," died Wednesday after contracting the coronavirus.
State Rep. Isaac Robinson was devoted to politics and Detroit, battling for decades on behalf of the city's underdogs until succumbing to its latest scourge: the coronavirus.
Singer-songwriter Jan Howard, who had a No. 1 country hit "For Loving You" with Bill Anderson and wrote hits for others like Kitty Wells' "It's All Over But the Crying," has died at age 91, according to the Grand Ole Opry.
Country singer Joe Diffie, who had a string of hits in the 1990s with chart-topping ballads and honky-tonk singles like "Home" and "Pickup Man," has died after testing positive for COVID-19. He was 61.
Krzysztof Penderecki, an award-winning conductor and one of the world's most popular contemporary classical music composers whose works have featured in Hollywood films like "The Shining" and "Shutter Island," died Sunday.