Despite recusing herself from the case, Chicago's top prosecutor weighed in on the allegations against Jussie Smollett last month, telling a deputy that she believed her office had overcharged the "Empire" actor.
The elite academies that educate officers for the nation's armed forces have begun to implement the Trump administration's ban on transgender service members.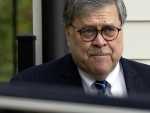 After nearly two years of waiting, America will get some answers straight from Robert Mueller— but not before President Donald Trump's attorney general has his say.
Taylor Swift, TV journalist Gayle King and soccer star Mohamed Salah are among the six famous faces featured on the covers of Time's annual "100 Most Influential People in the World" issue.
The U.S. Naval Academy will ban people who are transgender from attending the school, beginning with the 2020 school year.
When seven male students tried to enter the women's room in an Alaska High School in protest over the use of the men's room by a trans student, a female student responded by giving a knee to one of them.
Chicago's top prosecutor injected herself into the criminal case of "Empire" actor Jussie Smollett after saying she had recused herself, texting her deputy that Smollett was a "washed up celeb" who had been overcharged.
A month after agreeing to repay tens of thousands of dollars in taxes to campaign committees in exchange for prosecutors dismissing felony charges against him, former Rep. Aaron Schock (R-Ill.) is living the good life.
The co-executor of Michael Jackson's estate said he's confident the late superstar's supporters will be able to protect his legacy in the wake of an HBO documentary featuring the disturbing stories of two men who say Jackson sexually abused them as boys.
Fox News darling Tomi Lahren caused a frenzy on Twitter this week after linking those who support Rep. Ilhan Omar (D-Minn.) to those who back the "stoning of gays." She also managed to defend Vice President Mike Pence in the same tweet.