Gay Detroit: The Latest
Is Pete Davidson behaving badly to his "SNL" colleagues? And what does he think of Kanye's cryptic threat?
Amy Schneider has already made "Jeopardy" history as the first trans contestant to make it to the Tournament of Champions. The down-to-earth computer programmer talked to EDGE about her life, fame, "Jeopardy!" and the story behind that pearl necklace.
Clean Beauty & Wellness CBD delivers the highest quality CBD products to elevate your wellness and skincare routine.
Even as "The Ellen DeGeneres Show" is headed for the exit, another program starring the out comedian, "Ellen's Game of Games," has gotten the axe.
Olympic swimming champ Michael Phelps weighed in on the controversy around Lia Thomas, saying it's "complicated" but calling for an "even playing field" he admits he can't define.
The bodies of a recently-married lesbian couple from El Paso were found dismembered and stuffed into trash bags in the border town of Ciudad Juárez.
Here's a look at what endemic means and the implications for the future.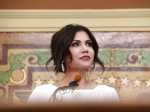 The South Dakota Senate on Wednesday passed a bill proposed by Republican Gov. Kristi Noem that would ban transgender women and girls from participating in school sports leagues that match their gender identity.
A long-awaited report on sexual abuse in Germany's Munich diocese on Thursday faulted retired Pope Benedict XVI's handling of four cases when he was archbishop in the 1970s and 1980s.
Disability rights activists and advocates for Britney Spears backed a California proposal Wednesday to provide more protections for those under court-ordered conservatorships, while promoting less-restrictive alternatives.
Yvette Mimieux, the blond and blue-eyed 1960s film star of "Where the Boys Are," "The Time Machine" and "Light in the Piazza," has died. She was 80.
Moody to a fault, this folk horror film doesn't have the insight into its characters it needs to have true vision.
Amazon says it plans to open a clothing store in a Southern California mall later this year, a first for the online behemoth and a fresh challenge for already struggling traditional retailers.
New research shows having a greater number of older brothers increases the probability of a person entering a same-sex union at some point in their lives.

For the first time in half a year, families on Friday are going without a monthly deposit from the child tax credit.
Here are five ways that car buying has changed, along with a few tips on how to manage it.

This weekend offers a rare opportunity to collect archival items from the Tom of Finland store.
The White House expressed a commitment to "science, not fiction or stigma" as a basis for determining blood donor eligibility.

For LGBTQ+ travelers, Colombia boasts bustling city streets, natural wonders, and plenty of queer discoveries, from clubs and restaurants to welcoming communities.
Baby talk is cute when grown-ups dote on babies. But when adults converse with each other? Not so much. So why do couples do it?