Jennifer Leja is protesting her school district's policy banning Pride flags in the classroom, flags that signal to LGBTQ students that her classroom is a safe space.
After Caroline Walker's Pride flag was stolen from the front porch of her Covington, Kentucky house, her straight next door neighbors put one up in solidarity.
Christopher Street West (CSW), which produces the annual LA Pride celebration, has, for the first time, appointed its first Black transgender woman in the role of the organization's president.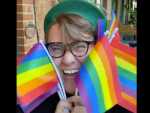 A Chicago gay couple has gone viral for a humorous video they made in response to a thief who stole a Pride flag from their porch.
A Detroit couple who own the bakery Good Cakes and Bakes have spoken up about a recent homophobic cake order received online through their website.
Geo-locating social networking and gay/bi/queer/trans dating app Grindr has partnered with The UrSafe App in order to increase persona safety measures in LGBTQ+ dating.
Kenneth Felt, 90, explains to BBC why he decided to come out to his daughter late in life.
Former "ex-gay" leader, who came out in 2015, announces marriage to man.
In honor of Pride, the jewelry company Shane Co. put together a comprehensive list of what are the most popular LGBTQ movies from state to state.
Two Paris gay bars were targeted with graffiti of swastikas over the past week.