Top Story
Minnesota Gov. Tim Walz apologized to CNN, saying he takes total responsibility for the arrest of one of the network's crews Friday as they reported on violent protests in Min...
1 thru 10 of 53075 Stories
Contrary to what anti-LGBTQ extremists claimed before marriage equality became the law of the land in 2015, marriage equality has been good for the institution - and for the economy.
Don Lemon threw down the gauntlet for America's celebrity class, wondering on air where the voices of the nation's most prominent citizens are in the midst of widespread unrest.
The first day of June saw coronavirus restrictions ease from Asia to Europe on Monday, even as U.S. protests against police brutality sparked fears of new outbreaks.
It's going to happen. We promise. We will travel again. When this pandemic passes, the LGBTQ community will be one of the first to click our heels and rediscover our magical world through travel. And this is where you'll want to go.
Andy Cohen took to Instagram over the weekend to share with fans that he is re-homing his dog Wacha over concerns with his one-year-old son.
With cities wounded by days of violent unrest, America headed into a new week with neighborhoods in shambles, urban streets on lockdown and shaken confidence about when leaders would find the answers to control the mayhem amid unrelenting raw emotion over
Joe Biden's search for a running mate could be reshaped by the police killing of George Floyd and the unrest it has ignited across the country, raising questions about contenders with law-and-order backgrounds.
Herbert Stempel, a fall guy and whistleblower of early television whose confession to deliberately losing on a 1950s quiz show helped drive a national scandal and join his name in history to winning contestant Charles Van Doren, has died age 93.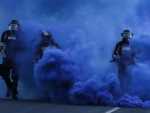 "After shouting press multiple times and raising my press card in the air, I was thrown to the ground. Then another cop came up and peppered sprayed me in the face while I was being held down."
Federal law enforcement officials insisted far-left groups were stoking violence. Meanwhile, experts who track extremist groups also reported seeing evidence of the far-right at work.
1 thru 10 of 53075 Stories