Gay Detroit: The Latest
In "Uncle Frank," Alan Ball's second full-length feature, Peter Macdissi plays Walid, the partner of Frank (Paul Bettany). Both warily travel from Manhattan to the deep South for a family funeral. Macdissi discussed his work on the film.
California can't enforce a ban vanity license plates it considers "offensive to good taste and decency" because that violates freedom of speech, a federal judge ruled Tuesday.
As coronavirus cases surge again nationwide the Supreme Court late Wednesday barred New York from enforcing certain limits on attendance at churches and synagogues in areas designated as hard hit by the virus.
Australian Harry Jowsey was the break-out star from Netflix's hit reality show "Too Hot Too Handle" this past summer. And a recent trip to California's Venice Beach showed as to why.
A moving letter from a young boy named Will asked Santa if God still loves him even though he's gay. The letter is pulling heartstrings all across the internet.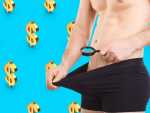 Size does matter, and smaller is more profitable, at least with men's incomes.
The mayor of Naples started a formal process to rename the San Paolo stadium for Diego Maradona on Thursday.The move comes with the city in mourning for the soccer great, who died Wednesday of a heart attack at age 60.
Trump's baseless claims have a way of coming back. And back. And back.
EDGE canvassed various industries to curate our favorite picks of the season. Some are splurge-worthy; others are affordable giveaways that won't break the bank. Above all, conscious giving remains one of the most prominent themes of 2020.
Diagnosed with stage-four cancer, one patient is pouring energy into a new effort to help dying patients gain legal access to psilocybin — the mind-altering compound found in so-called magic mushrooms — to ease their psychic pain.
Germany's Cabinet on Wednesday approved legislation that would provide compensation to gay servicepeople who experienced discrimination in the military before a change of policy 20 years ago.
This Melissa McCarthy vehicle is a surprisingly charming and romantic comedy about compassion and kindness - something the world needs right now.
A former Starbucks barista in New Jersey is suing the corporation because, she alleges, she was fired for refusing to wear a "PRIDE" T-shirt.
The world of online gaming is blowing up at the moment with everyone from professional eSports players to live gaming streamers growing in stature as mainstream entertainers and athletes.
More than 3 million LGBT Americans are currently over 50, and that number is estimated to more than double over the next decade as Baby Boomers ride in on a rainbow-hued silver wave. And retirement presents many special issues for them.

While Black Friday savings on new cars aren't that dramatic — no 70% off fire sales here — they do generally make mid- to late November a good time to buy a car.
EDGE has curated the ultimate CBD holiday gift guide, including CBD gift boxes, CBD gift bundles, and the best CBD products of 2020. The only difficulty will be deciding whether to gift them or keep for yourself!
"There's a split second when I wake up in the morning when I forget that I'm not waking up dope sick," says recovering addict Jonah Brooks. "Everything about my life is going so well, and it's just more beautiful than I ever thought possible."

The small town has made people feel safer than in big, crowded cities. Outdoor activities are Aspen's calling card, and the mountains were a perfect place to escape the doldrums of months-long lockdowns.
Our look back from the Epic at the Roxy archive when it was Boston's primo nightlife choice continues with these pics.