Review: 'The Nest' A Masterwork of Dread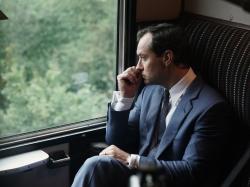 Anybody who has seen Sean Durkin's 2011 debut, "Martha Marcy May Marlene," knows that the filmmaker has a keen knack for executing dread in marvelously unsettling ways. That talent is on display again in "The Nest," which begins with the static exterior of an American home and music that crescendos to haunting heights. Something bad is coming, but little do we know that the wickedness is being introduced right at the forefront. Rory (Jude Law) stands at the window, talking on the phone, making a deal of sorts. It's a deal that will pluck his family from the U.S. and transport them across the Atlantic to the UK, where they'll exist in a comically large home while Rory makes the big bucks for his loved ones.

Or so it seems. In "The Nest," everything is at once surface level, yet masterfully buried beneath at the same time. It's clear there are cracks in the marriage between Rory and Allison (Carrie Coon), who live together with Allison's teenage daughter (Oona Roche) and their 10-year-old son (Charlie Shotwell).

"The Nest" examines these fractures while operating with ultimate anxiety stimulation; you always feel like something is coming around the corner when in reality we're simply watching scenes from a marriage that end up being just as shocking as a horror film with ghosts or murderers or monsters. The ghosts of love once cherished. The murder of a sacred bond. The monster? Rory fits the profile quite nicely, but in the end, the true beast is simply his and Allison's toxic bond.

The performances are, in short, extraordinary. Jude Law captures the shallowness and megalomania of Rory with a deft commitment to the character's ugliness. His lust for money and braggadocios demeanor highlight a man who is as empty as they come, constantly trying to fill that hole with whatever semblance of power he can muster. Carrie Coon is the film's shining light, her performance truly the stuff of wonder. Every moment, every facial gesture, every vindictive line; she plays a wife trapped who eventually begins to fight back. Will the marriage end in disaster, or will it continue on in its despair? That's the question posed by "The Nest," and it's one that leaves us with uneasy answers.

Durkin, with his sophomore film arriving nearly a decade after his first, proves that he's still got a knack for crafting compelling works that drip with trepidation. The centerpiece of "Martha Marcy May Marlene" was a cult, while the flagship of "The Nest" exists in its examination of a family's slow collapse. Both films tackle a different subject with the same sense of astute observation, and it makes one yearn for more from Durkin, a filmmaker who truly understands his subjects and the barren worlds they occupy.

With stellar production design that gives the film a bit of a Victorian horror vibe and intelligently lit cinematography along with careful editing, "The Nest" even adds dread to its visual palette. All in all, it's an unnerving time that ends up being rewardingly fulfilling, even when you're soaked in its despondency.
Comments on Facebook