Top Story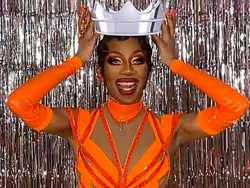 Nothing, not even COVID-19, was going to keep RuPaul from crowning America's next drag superstar.
Don Lemon threw down the gauntlet for America's celebrity class, wondering on air where the voices of the nation's most prominent citizens are in the midst of widespread unrest.
Andy Cohen took to Instagram over the weekend to share with fans that he is re-homing his dog Wacha over concerns with his one-year-old son.
Each episode is a mix of docudrama and feature profile, and while the ten episodes in the series center around a disparate mix of celebrities, one theme emerges again and again: Following one's own path.
Out filmmaker Xavier Dolan's latest film debuted at the Cannes Film Festival last year (where it competed for the prestigious Palme d'Or award but lost to "Parasite") but his newest drama "Matthias & Maxime" is just finding distribution in the US.
Herbert Stempel, a fall guy and whistleblower of early television whose confession to deliberately losing on a 1950s quiz show helped drive a national scandal and join his name in history to winning contestant Charles Van Doren, has died age 93.