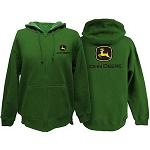 TractorUP
2522 Van Ommen Drive
Detroit Michigan 49424

Description
We sell John Deere, Case IH, Farmall, Chalmers, and much more. We know our products intimately. From clothing to bedding to housewares, we constantly keep an eye one what is new and what is cool.

The John Deere Company has never wavered from the core values of its founder: integrity, quality, commitment, and innovation. Great emphasis is placed on creating a diverse working environment for employees, meaning that no matter your race, religion, gender, age, disability, or sexual orientation, there is a place for you at Deere.

This commitment to diversity within its ranks encourages the robust growth that catapulted John Deere to $36.1 billion in sales for 2014. Employees that are cared-for, care greatly for their customers. Even in the depths of the Depression, John Deere lived this philosophy. And families that have benefited from the founding values of THE John Deere still bleed green and yellow.

According to the news source, John Deere stayed in the minds of many Americans during World War II, as the company joined the war effort by making tractors, aircraft parts, ammunition and other necessary products for the armed forces.

The quality of the products also impressed many Americans, again helping to inspire brand loyalty, as the mentality of the company's founder persisted through the years.