Did you know there are only three operating lesbian bars in NYC? This is their story.
Rage, the iconic dance club in West Hollywood, Calif., has become a causality of the COVID-19 pandemic, having recently closed its doors permanently.
A West Hollywood gay bar has announced it will be closing its doors for good after negotiations with the landlord failed to secure the space for a reopening after five months of closure due to COVID-19.
The survey of 2,000 Americans found the majority are eschewing in-person events and parties — but there's always an exception to the rule.
Iconic LGBTQ+ screenwriter and star to appear at online fundraiser for legendary NYC bar.
Staples of NYC's LGBTQ+ nightlife could permanently close as a consequence of the pandemic.
With an economic hit $30 million in lost revenue and a surge of new cases, Palm Springs is digging deep to connect people and businesses with the resources they need to stay healthy and financially solvent.
It seems to have been more like a typical Saturday night than a drunken New Year's Eve.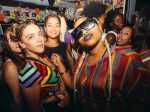 "The outpouring of love and donations on the various platforms has been incredible. But we need continued support until we reopen," says Henrietta Hudson owner Lisa Cannistraci. "I'm not going to lose the bar. I'm not going to let it happen."
"We're resilient. I do believe we'll recover," says Chicago nightclub owner and LGBTQ community advocate Mark Liberson. "It's just a matter of when. Remember, the last pandemic led into the Roaring 20s."