Top Story
"We've definitely seen homophobic, heteronormative and racist values seep into AI," says Lesbians Who Tech Founder Leanne Pittsford. Find out how in EDGE's late...
1 thru 10 of 53908 Stories
The Republican National Committee is sharply restricting attendance on three of the four nights of its convention in Jacksonville, Florida, next month, as it looks for ways to move forward with the event while coronavirus cases are spiking in the state.
A supporter of President Donald Trump who posted on social media that the dangers of COVID-19 were "a lot of hype" died from complications of the virus.
For the third straight year, the racial diversity of LGBTQ characters in film has waned and transgender characters again went unseen.
Mary L. Trump's scathing memoir about her uncle, President Donald Trump, is nearly a million seller on preorders alone.
The house used for exterior shots in the first season of "The Golden Girls" is on the market - but you'd have to be a true pal and confidant to snap it up, at a price of just under $3 million.
As of early July, roughly 160 vaccine projects were underway worldwide, according to the World Health Organization. But will any of them work?
YouTube star Jake Paul is no stranger to controversy and he's coming under fire once again. The latest drama comes after he hosted a huge house party at his California mansion on Sunday, ignoring renewed COVID-19 restrictions from the states.
President Donald Trump is adamant that he wants another four years in office. It's less clear what he would do with them.
The superintendent of a Florida school system doubled down on his statement that being gay is a matter of personal choice - and seemingly suggested that human sexuality is not innate because of God.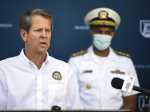 Georgia's Gov. Brian Kemp is explicitly banning Georgia's cities and counties from ordering people to wear masks in public places.
1 thru 10 of 53908 Stories