1 thru 10 of 2910 Stories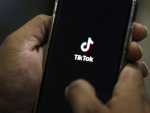 The U.S. will ban the downloads of the Chinese apps TikTok and WeChat on Sunday, with a total ban on the use of the latter, citing national security and data privacy concerns.
A round up of the best LGBTQ TikToks from the week.
Sony's upcoming PlayStation 5 video game console will cost $500 and launch Nov. 12, the company said Wednesday, setting up a holiday battle with Microsoft's Xbox Series X over whose new console will turn up under more trees this year.
Cardi B has filed for divorce from Migos' rapper Offset, claiming her marriage was "irretrievably broken."
From Broadway to Hollywood, many actors, directors, backstage workers, musicians and others in the performing arts face similar coverage suspensions.
A gay man wondered if he acted inappropriately with his straight friends in a post on the sub-Reddit "Am I The Assh*le."
The owner of TikTok has chosen Oracle over Microsoft as the American tech partner that could help keep the popular video-sharing app running in the U.S., according to a person familiar with the deal who was not authorized to speak publicly about it.
A Finnish ad campaign celebrating LGBTQ Pride features two fast-food giants' mascots locking lips.
"Wear a mask!" say these gay adult performers in new PSA.
Musicians have taken to the roofs of apartment blocs with alphorns in the German city of Dresden to perform a concert featuring distant harmonies at a time when cultural events have been disrupted by the coronavirus.
1 thru 10 of 2910 Stories