TGD2S Family Comic Jam & BBQ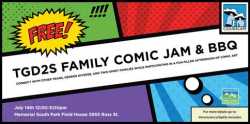 When:
Saturday July 14 at 12:00PM

Where:
South Memorial Park 5955 Ross St, Vancouver, BC

Visit Website
About:

Connect with other trans, gender diverse, and Two-Spirit families while participating in a fun filled afternoon of comic art.

When: July 14th 12:00pm-3:00pm
Where: Memorial South Park Field House, 5955 Ross Street, Vancouver, BC (located on E 41st between Fraser and Knight)


Cloudscape Comics is dedicated to publishing British Columbia graphic novels and fostering community among comic creators.

Children, youth and adults can socialize and roam freely amongst the multiple art stations. FREE BBQ and snacks provided; vegan options available.

Art stations will be facilitated by volunteer artists including Sfe R. Monster, a Canadian queer artist who focuses on gender, queerness and genderqueerness in their work. Check out their work here: http://www.sfemonster.com/

The field house has a capacity of 30 people, so we ask families to limit themselves to 5 participants each to include as many families as possible.

Family means something different to everyone and we welcome ALL families who have a need/desire to connect with other TGD2S folks and resources!