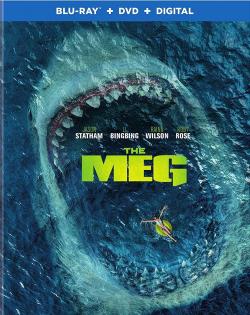 "It's kind of like 'Jaws' on steroids... The Meg is magnificent."
Vince Mancini, Uproxx

THE MEG

4K UHD, Blu-ray and DVD debut on November 13

Go head-to-head with the largest prehistoric shark to ever exist when "The Meg" arrives on 4K UHD Combo Pack, Blu-ray Combo Pack, DVD Special Edition and Digital. Jason Statham ("Spy," "The Fate of the Furious," "The Expendables" films) and award-winning Chinese actress Li Bingbing ("Transformers: Age of Extinction," "Forbidden Kingdom," "The Message") star in the science fiction action thriller "The Meg," directed by Jon Turteltaub (the "National Treasure" movies).

A deep-sea submersible—part of an international undersea observation program—has been attacked by a massive creature and now lies disabled at the bottom of the deepest part of the Pacific Ocean...with its crew trapped inside. With time running out, former deep-sea rescue diver Jonas Taylor (Jason Statham) is drawn out of self-imposed exile by a visionary Chinese oceanographer, Dr. Zhang (Winston Chao), against the wishes of his daughter, Suyin (Li Bingbing), who thinks she can rescue the crew on her own. But it will take their combined efforts to save the crew, and the ocean itself, from this seemingly unstoppable threat—a prehistoric 75-foot-long shark known as the Megalodon. Thought to be extinct, the Meg turns out to be very much alive...and on the hunt. Five years before, Jonas had encountered this same terrifying creature, but no one had believed him. Now, teamed with Suyin, Jonas must confront his fears and risk his own life to return to the ocean depths...bringing him face-to-face once more with the apex predator of all time.

https://www.facebook.com/MegMovie/

Enter to win!

Thanks for visiting EDGE!
Enter this contest
If you already have an account with EDGE, all you need to do is log in; we'll pull your address information from your account and simply ask you to verify it. If you do not yet have an account with us, register now! It's easy and free, and you'll never have to type in your personal information again. If you prefer to enter this information manually, you can use the manual entry link below.
Register
Manual Entry
Click here for contest rules.
* Please be aware that creating multiple accounts for the same person will disqualify you.