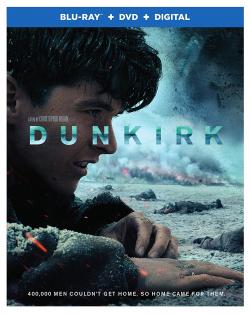 "Ambitious and harrowing, Christopher Nolan's 'Dunkirk' is a masterpiece."
Stephanie Zacharek, TIME

WHEN 400,000 MEN COULDN'T GET HOME...HOME CAME FOR THEM

DUNKIRK

ARRIVES ONTO 4K ULTRA HD, BLU-RAY, DVD AND DIGITAL FROM WARNER BROS. HOME ENTERTAINMENT

Own it Early on Digital on December 12

4K Ultra HD and Blu-ray debut on December 19

One of the year's most acclaimed films, Warner Bros. Pictures' "Dunkirk," arrives on 4K Ultra HD, Blu-ray, DVD and Digital this December. From filmmaker Christopher Nolan ("Interstellar," "Inception," "The Dark Knight" Trilogy) comes the epic action thriller "Dunkirk." Nolan directed "Dunkirk" from his own original screenplay, utilizing a mixture of IMAX® and 65mm film to bring the story to the screen. The film was partially shot on location on the beaches of Dunkirk, France, where the actual events unfolded. Said director Christopher Nolan, "I'm excited to be releasing 'Dunkirk' on 4K UHD with HDR. The film was shot entirely on the highest definition IMAX and 65mm film and this fantastic new format, with its increased resolution and superior colour reproduction is able to maximize Dunkirk's impact in the home." On December 19, "Dunkirk" will be available on 4K Ultra HD Combo Pack for $44.95. The 4K Ultra HD Combo Pack will include a 4K Ultra HD disc with the feature film in 4K resolution with HDR, a Blu-ray disc with the feature film in hi-definition, a Blu-ray disc with the special features in hi-definition, and a Digital version of the feature film. Also on December 19, "Dunkirk" will be available on Blu-ray Combo Pack for $35.99 and DVD for $28.98. The Blu-ray Combo Pack features a Blu-ray disc with the film in hi-definition, a Blu-ray disc with the special features in hi-definition, a DVD with the film in standard definition, and a Digital version of the movie. Fans can also own "Dunkirk" via purchase from digital retailers beginning December 12.

"Dunkirk" opens as hundreds of thousands of British and Allied troops are surrounded by enemy forces. Trapped on the beach with their backs to the sea they face an impossible situation as the enemy closes in. The story unfolds on land, sea and air. RAF Spitfires engage the enemy in the skies above the Channel, trying to protect the defenseless men below. Meanwhile, hundreds of small boats manned by both military and civilians are mounting a desperate rescue effort, risking their lives in a race against time to save even a fraction of their army.

#DunkirkMovie

https://www.facebook.com/DunkirkMovie

Enter to win!

Thanks for visiting EDGE!
Enter this contest
If you already have an account with EDGE, all you need to do is log in; we'll pull your address information from your account and simply ask you to verify it. If you do not yet have an account with us, register now! It's easy and free, and you'll never have to type in your personal information again. If you prefer to enter this information manually, you can use the manual entry link below.
Register
Manual Entry
Click here for contest rules.
* Please be aware that creating multiple accounts for the same person will disqualify you.