Waitress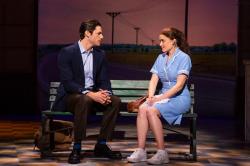 If you're in the mood for a big old slice of bright and earnest musical theater, then "Waitress" is for you. "Waitress" opened up in Detroit on May 7, brought to stage by an all-female creative team including original songs by six-time Grammy nominee Sara Bareilles. Inspired by Adrienne Shelly's beloved film by the same name, "Waitress" tells the story of Jenna, a creative, expert pie maker who dreams of a life bigger than her small town and loveless, abusive marriage. Jenna aspires to enter a local baking contest where the winnings would give her the freedom to leave Earl, her scumbag husband, and start a new life with her unplanned, unborn baby. Surrounded by a loveable cast of friends and fellow waitresses, she starts to gain the confidence to make the changes in her life that, until now, seemed like pipe dreams.

Jenna is played by an extremely well cast Christine Dwyer. Her interpretation on the character is nothing less than perfect. Though it took the first few songs, such as "Opening Up" and "What Baking Can Do" for Dwyer to hit her stride, she finds her ground and power in the all too familiar ballad "She Used to Be Mine." I think we can all connect with her wistful reminiscing of not noticing the person in the mirror as life takes us down unplanned roads. As much as we want to root for Jenna, it's hard to get past the fact that though her marriage is crumbling she willingly engages in an affair with her, also married, gynecologist Dr. Pomatter.

Working as waitresses along with Jenna at Joe's Pie Diner are the sassy and confident Becky, played by the powerhouse Maiesha McQueen, and the meek Dawn, played by Ephie Aardema. McQueen elevates the energy in the theater every time she's on the stage and truly shines in her sassy comebacks and the opener for Act Two, "I Didn't Plan It." Perfectly opposite Becky was a gruff Cal, the diner owner. The exchanges between these two, flawless timing in their delivery, gave the audience a well deserved chuckle and occasional eye roll.

Aardema on the other hand, while endearing, fell short of the Dawn I fell in love with in the original Broadway cast recording. Granted this is touring theater, and not Broadway, I was let down by "When He Sees Me." This should be a breath of fresh air, letting us into Dawn's slightly paranoid yet sweet and naïve hopes for her love life, but instead was difficult to hear and decipher through Aardema's forced squeaky Southern accent.

Regardless of the inability to hear Aardema clearly most of the time, she does manage to capture Dawn's longing for a boyfriend who shares her quirky interest in the Revolutionary War. Who should come into her life but the perfect man for her, Ogie. Jeremy Morse's Ogie is so delightfully goofy that his every bouncy appearance brings the audience sheer joy and laughter. He's nimble, adorable, and wants to be with Dawn more than anything in the world. So much so that he proclaims through song and original poetry that she can never ever get rid of him.

Jenna's love interest and glimpse into what her life could be, Dr. Pomatter, is played by a somewhat dorky, overly eager and awkward, but cute Steven Good. Good and Dwyer have a sweet chemistry and seem to truly touch on the possibility of happiness together, but perhaps in a different life, a different time.

None of these characters would have come together without employment by supposedly crotchety, but gently tender diner owner, Joe. Richard Kline perfectly straddles this line and even manages to make Joe's past love trysts come off as sweet and nostalgic instead of weirdly creepy coming from an old man. His tenderness shines through in his biggest moment in the spotlight during "Take It From an Old Man."

Ultimately, while I want to champion an all-female driven and led production, mostly well cast, the underlying currents of a physically violent marriage and inappropriate trysts put a slightly sour taste in my mouth. Much like one of Jenna's lemon pie recipes might.

"Waitress" runs through May 19 at the Fisher Theatre, 3011 West Grand Boulevard in Detroit, MI. For information or tickets, call 1-800-982-2787 or visit www.broadwayindetroit.com or www.ticketmaster.com. Tickets are also available at the Fisher Theatre box office.
Comments on Facebook