Are Model Presley Gerber's Face Tats 'Misunderstood'?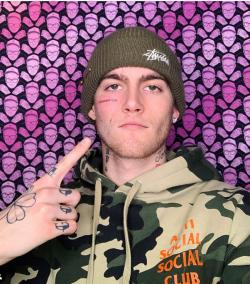 Model Presley Gerber, the 20-year-old son of Rande Gerber and Cindy Crawford, has turned heads this week. No, nothing corona-related; but due to those face tats.

In February Gerber, who wants to follow in his supermodel mom's footsteps, released a video of himself getting a tattoo from Jonathan "JonBoy" Valena, tattoo artist to the celebrities, who gave Gerber a face tattoo that reads "misunderstood."

"JonBoy posted a photo with Gerber on his Instagram, clearly referencing his tattoo subject's famous mom in the caption. 'Sorry mom,' JonBoy wrote," reports Elle.

He was immediately criticized on social media.

"'How sad that you hate yourself so much that you do this to yourself. . .Get help,' one person wrote," reports Elle.

"How would this make anybody that even needs help feel any better. So let's say I did. You think that's going to make me feel better," Presley replied. "Go get a life."
Undaunted, Gerber added a second face tattoo on Tuesday, reports the Daily Mail.





"Gerber posted a new photo which appeared to show the Los Angeles Dodgers 'LA' logo surrounded by a star on his cheek bone, on Instagram on Tuesday," the Daily Mail writes. He captioned the black-and-white image with the word "Colorblind."

He also received criticism for a post he put up last week defending his first tattoo.

"Most and a lot of people can get a face lifts, change genders, lip injections, etc and it's offensive to say anything in today's day in age but I get a little face tattoo and now people love to hate me.. Hmmmm? [sic]," he wrote.

"The bizarre statement seemed to compare the negative reactions he got to the tattoo to the discrimination that transgender people receive," reports the Daily Mail.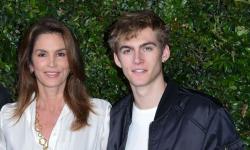 Some have speculated that the 20-year old is acting out.

"Presley is obviously going through a super rebellious phase right now," a source told Us Weekly last month. "He is trying to get out of the shadow of his family and find his own way and create his own identity. He also likes the attention he's been getting, even if negative, from his tattoo and recent posts."

"The insider adds that the successes of Crawford, 54, Rande, 57, and Presley's sister Kaia Gerber, 18, make things harder for the 20-year-old model," added US Weekly.

"Gerber, who is completing a DUI program stemming from his New Year's Day 2019 arrest, is no stranger to body art. He also has multiple tattoos on his neck and fingers, a marijuana leaf inked on his hand and his sister Kaia's name written in cursive on the back of his arm," writes the New York Post.
Comments on Facebook