1 thru 10 of 2415 Stories
The struggle between House Democrats and the Trump administration over investigations intensified as a former White House official defied a subpoena and the Treasury Department ignored a deadline for providing President Donald Trump's tax returns.
Florida is on the verge of expanding a law that allows some teachers to carry guns in the classroom after the Senate passed a wide-ranging school safety bill Tuesday.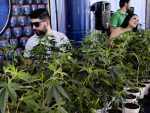 California legislators considered a plan Monday intended to encourage more banks to do business with marijuana companies that have been frozen out of thousands of financial institutions.
Democrat Andrew Yang understands he's unknown to much of America. But the political newcomer says he'll ride what seems like an improbable path to the White House just like President Donald Trump.
Three state senators have made a big change to legislation that aims to improve safety for Uber and Lyft customers in South Carolina.
In golden olden times, as Donald Trump remembers them, a good economy kept critics of the president at bay. It doesn't take a village of historians to know that's not so.
A United Airlines airport agent is accused of using a racial slur against a customer and faces a misdemeanor charge of disorderly conduct.
President Donald Trump is falsely suggesting that the people "closest" to him weren't called to testify before special counsel Robert Mueller and his team because investigators didn't want to hear the "good things" those people would say.
The Associated Press interviewed four foreign women who joined the caliphate and are now among tens of thousands of IS family members, mostly women and children, crammed into squalid camps in northern Syria.
British Prime Minister Theresa May faced renewed pressure Tuesday from her restive Conservative Party to resign as lawmakers returned to Parliament — and to Brexit wrangling — after an 11-day Easter break.
1 thru 10 of 2415 Stories